Apart from accomplishing your mission, welcoming new members into your organization is a great strategy for growing revenue and engaging others in your work.
It doesn't matter whether you use membership management software if you don't have a good membership funnel.
A membership funnel is a series of steps that leads people from awareness to action. You can use them to help people learn about your organization, sign up for your newsletter, donate, or volunteer. 
Here's what we will touch on:
What is a Membership Funnel?
Step 1: Build Awareness
Step 2: Sparking Interest
Step 4: Keep Going
In Short
What is a Membership Funnel?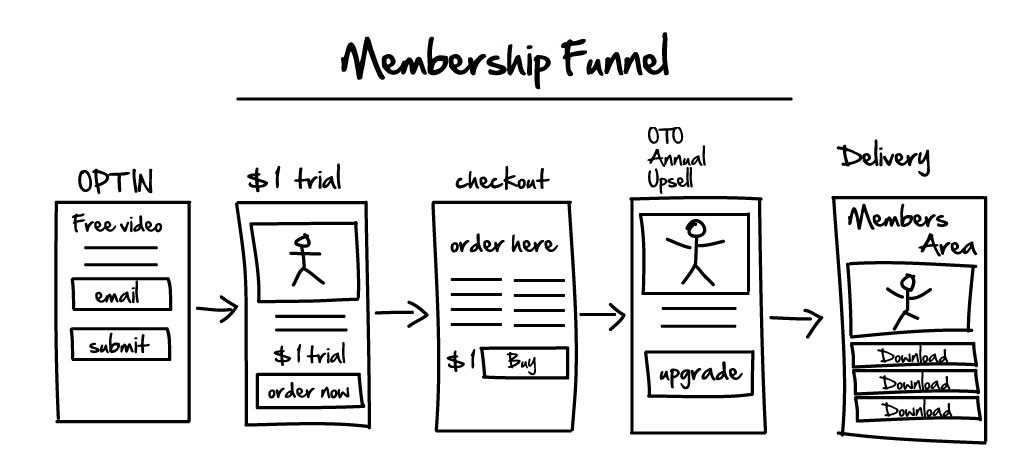 The "membership funnels" are the nonprofit spinoffs of the for-profit sectors' sales funnels.
Sales funnels are used to define the customer's journey with the destination of the trip being the purchase of a membership.
As a nonprofit, your main purpose isn't to sell anything, but rather to invite people to join your cause. A good membership funnel begins when someone first encounters an organization and ends when they join it.
Pro Tip: Don't shy away from using traditional business practices for your non-profit! While your goal isn't necessarily profit, revenue growth helps ensure that you're able to accomplish your mission as efficiently as possible.
After the new member has joined the community, you may want to spend some time focusing on their member onboarding, which makes their transition into membership a smooth one. But before that can happen, you need to convert your website visitors into loyal members.
Here are a few steps:
Step 1: Build Awareness
If people don't even know that your organization exists, they won't be likely to find it. The first phase of your membership funnel is building awareness about your organization.
Awareness can be created by focusing on these four key concepts:
Paid advertisement

Social media marketing

Search engine marketing

Good old fashioned word-of-mouth
We'll focus more specifically on the first two techniques for our purposes. It's very important for the potential customer to be aware of your product/service. This will be their initial impression of your company, so it'll be important that you make it a positive one.
Start with an awareness campaign. A marketing campaign is an organized effort to increase the visibility or prominence of your business. But how? 
The SMART system was developed in the 1980s. It uses five focal points to help people achieve their goals. We'll break it down in the following context:
An awareness campaign for your nonprofit organization has to be, 
Specific: Make a list of specific goals you want to accomplish. How many new members are you aiming for? Who is your target audience? How much will it cost to market to them? 

Measurable: Will you be able to measure how successful your efforts are? How will you measure this figure?

Attainable: Is your goal realistic? Or are you chasing something a little too ambitious?

Relevant: How will your efforts benefit you in the long run? Are your efforts relevant to the core mission of your organization?

Time-Bound: Setting a deadline for your goals to be accomplished will make its success much easier to quantify.
For the content of the awareness campaign, try to use the purpose of your nonprofit to your advantage.
You can piggyback on trending topics when they're relevant to your organization or membership site—and put the spotlight on them. If applicable, hosting virtual events such as summits or webinARS and promoting these events on Social Media has always drummed up attention for your business.
Social media is your best friend when it comes to creating awareness. Social media platforms like LinkedIn, Facebook, and Insta­gram are key to organically sharing awareness about your brand.
If you don't have the time or resources for organic marketing on social media, you could always use paid advertising to get the results you want. Most websites today, including the big social media companies, allow some form of advertising. Nonprofit organizations sometimes receive discounts for advertising. If you meet certain criteria, Google will even give your non-profit free advertising credits.
You could pay for ads to be placed on websites and social networks where your target audience is known. You can also pay Google to place your ad at the top of their results for searches related to your business.
If you don't want to spend money on search engine optimization, you can always use SEO techniques to improve your organic search rankings and conversion rates. Find some keywords related to your organization and use them a few times on the homepage. Writing content about the keyword is another great way to get exposure for your business.
For example, if your nonprofit focuses on preserving polar ice caps, you could definitely include blurbs on your homepage that talk about saving the ice caps, and you could also write blog posts about the science behind the melting of the ice caps.
This content, once it gets traction on search engines, will lead those who are passionate about climate change and the ice caps (and are thus reading about it), right to your organization.
Pro Tip: Make sure to keep your density (how often the word is used compared to the total number of words) below 5%. Keyword stuffing prevents search engines from indexing your site, since they're always on the lookout for keyword stuffing.
The first layer of the member funnels is creating awareness. Now that your audience knows about your organization, how will they be convinced to join it? Let's move on to the next step:
Step 2: Sparking Interest
Once you've gotten someone's attention, it's time to turn their curiosity about your organization into a genuine interest in it. Your ads or SEO campaign should be the spring pad for your visitors' landing mat. This means that your website should focus on converting visitors who are curious about your business into people who are interested in your business.
A good landing page is very important when it comes to conversions.
Depending on the context, any given website may have multiple landing pages. An ideal landing page effectively conveys the "value propo­sition" of your organization immediately to the website visitor. A strong value proposition demonstrates to the website visitor exactly what he or she will get for his or her time, attention, and cash.
Now, a for-profit's value proposition focuses on the benefits of its product or service. A nonprofit organization may not have a product or service. Instead, its value proposition should focus on the benefits it provides with donors' money. Examples include feeding the homeless, saving endangered species, or powering scientific research. People want to be good people, so emphasize the good things you do.
A study sponsored by Microsoft found that most people decide in their first 10-20 seconds if they will keep reading or close a web page. The same study cites a Weibull hazard function of mechanical engineering, specifically, a concept called negative aging. I know, that was a lot of jargon. But hang in there, it will be worth the wait.
A web page's ability to hold visitors' attention decreases over time. The Microsoft study found that the ability of a web page to hold visitors' attention declines over time.
It means that you have 10–20 seconds to capture their attention. If you succeed in making them stay on the site for a long time, the longer they stay on the site, the more likely they will be to interact with it in some form. Website visitors are divided mostly into those who click away quickly and those who stay for longer periods of time.
This all starts with your home page. Your homepage is similar to an elevator pitch. It's your chance to introduce yourself to your audience. You only have a short time to make the pitch, which means you need to be very effective when you do.
Use the landing page as a way to clearly and quickly communicate what you're all about as an organization, what your values are, and that people can be a part of them. Show your users how they can get value from your product or service. If you have a business, show why it's the best. If you're raising funds for a cause, explain why it's important.
In order to maximize and maintain awareness, it's a good idea to generate an email list for people interested in your organization.
Here are some steps to nailing it on the first try:
1.) Communicate who you are and what you do.  This is usually done both in your marketing and on your home page
2.) Get their email address. How? Offering something in return! There are so many different ways you can do this; however, the most common ones are:
A whitepaper

Webinar

Video

Podcast

An E-Book

A newsletter
3.) The goal here is not to provide value for your visitors, so don't waste any time curating some content.
4.) Create an email marketing strategy that piques your user's interest. 
Remember that you're not necessarily trying to get people to join your organization right away, but rather trying to plant a seed for them to come back later. It's especially important for nonprofit websites: visitors on your website aren't there just because they want to learn more about your organization. Make sure they know why they should support the cause, and then they'll be more likely to support it.
Your landing page should really be designed to persuade visitors to sign up for your free email newsletter. After that, you can use some email marketing tricks to get them to become members.
Step 3: Nurture Leads into Members
Once you've gained their interest, they'll probably want to sign up for your email list. Here's where you can really turn someone who's interested in your organization into a real part of it.
The third phase of your membership funnel is to nurture leads into members. A lead is a potential customer whose contact information you have collected and who has expressed interest by contacting you. They're a great resource for email campaigns because they tend to just need some extra nudging to get started.
You can use email marketing or a popup to share educational content with your audience that keeps your audience interested in your organization and makes your organization relevant to them
Pro Tip:  Email marketing helps keep your organization at the top-of-mind for your leads, meaning they're thinking about your cause throughout the day.
After you've generated a mailing list, it's time to start sending out newsletters. While this isn't the best option for every business, newsletters are a great way for you to nurture leads into passionate customers or members.
To create a successful email newsletter, here are some tips to consider:
Timing
The first thing to set up is a consistent email sending schedule. Organizations often make the mistake of sending too many emails. Don't you get annoyed when your inbox is flooded with marketing messages, constantly pitching products, or demanding your time and money from you?
Don't overwhelm your audience with too many emails, which leads to people unsubscribing and diminishing any interest of potential members. Instead, send out one email every week, at least to begin with. You can experiment with this a bit to see where you get the best results, but overloading leads tends to reduce open and click-through rates.
Pro Tip:  "Open rate" refers to the percentage of recipients who actually open your email. "Clicks through rate" refers to the number of people who click your CTA and go to your website after opening your email.
The one-email per week schedule works because it's a happy medium between too many emails and not enough emails. Send two emails per week so that your audience doesn't feel bombarded by too many messages.
The best days of the week to send your emails are:
Tuesday

Thursday

Monday

Wednesday

Friday
Don't bother sending emails on weekends, because few people will be checking them and interacting with them.
Next, the best times of day to send emails are:
These hours tend to coincide with peoples' workdays. It's best to send out your email at 10 am because most people who work during the day will be at their desks by then, so they're likely to be bored enough to start idling away at their computers.
2:00 PM is a good time to schedule a meeting because it's typically an hour or so after lunch. After lunch, most people will take some time to relax and re-focus before resuming their work. Most people check their email while they're doing something else.
This is the best time to send emails. If you follow a specific schedule along with these guidelines for email marketing, you may be able to get more engagement from your emails.
Content
Next, you need good content for your email messages. The first thing people see when they open an email is the subject line. Ideally, a marketing email should have a personalized subject line.
Many people prefer to be greeted by name instead of by an awkward greeting that says "Dear customer" or "Dear member." Also, many organizations make the error of using an email address that just matches the name of their company.
It sounds like a good idea, but it turns out people prefer hearing from a real person to an automated CRM. Make use of this consumer preference and tailor your emails to them.
Use a personal email address when sending out newsletters. Refer to your recipients by name in the subject line. If you have an email marketing tool you can usually do this by importing names into your email list and then using a variable to insert each lead's name for their given email.
For the rest of the email's content, each email should include a hero image. A good, high-quality photo with a short caption or overlapping text summarizing the point of the email. This is called a tagline.
Every email should have an attention-grabbing headline and a visually appealing image. Next, create a compact article-like section that teaches something relevant about your organization to the reader.
Perhaps you could promote one of your upcoming workshops, share an inspiring story about an employee or a member, show your audience something interesting related to your niche, share your expertise in a news article, or video format, or perhaps you could even create a short video for YouTube.
Instead of constantly asking people to join your organization, share valuable information while subtly telling them why joining your organization would be a great idea.
Step 4: Keep Going
You should have a fully functional membership funnel now, but perhaps not a perfectly optimized one. While it'd be impossible to convert 100% of people who see your ad, visit your website, or subscribe to your newsletter into members of your organization at first, you can always improve the ways in which you attract them.
To see how well your funnel is performing, collect data from your audience by asking them questions.
Ask your new members how they found your organization and what made them join. Ask them why they decided not to join. Keep testing out new marketing tactics until they produce results that you're happy with.
It's not possible to please everyone with your advertising, landing page, and email marketing, but you can approach perfection by monitoring the wants and needs of your target audience.
In Short
Did you understand all of that? We know it's quite a bit, but feel free to bookmark this and use it as a reference as you work on your funnels.
Need help with creating a high-converting Sales Funnel? We've got your back! Just grab our full-funnel script pack currently on a super special at my My Funnel Script